Coco Palm Maldives - 4 Stars
What Everyone Ought to know about the Coco Palm Maldives
There are two Coco Palm Hotels in Maldives, namely the one in Dhuni Kolhu and the one in Bodu Hithi. Both Coco Palm Hotels in Maldives are strategically located to suit the needs of tourists who go to there to relax on its beaches. Both Coco Palm Hotels in Maldives are five-star-facilities which provide its guests the best of both rest and recreation in the Asian sea bordered city state.
Maldives is known for its white and fine sanded beaches, peaceful lagoons, and diverse coral reefs. Formerly a community that subsisted on fishing, Maldives' economy now survives the global race with tourism. The Coco Palm Hotels in Maldives attract hoards of tourist all-year-round with their top-of-the-notch accommodations and services.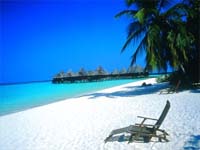 It's all about location
Coco Palm Maldives in Dhuni Kohlu is a 30-minute seaplane ride from the airport. It sits at the Bea Atoll which is beached against a crystal clear blue lagoon. The beaches in this Coco Palm Maldives Hotel are ivory white, and the rest of the region is a rich plot of aquamarine life.
The Coco Palm Maldives Hotel in Bodhi Hithi, on the other hand, is a 29 kilometer speedboat ride from the airport. This is a comfortable 40-minute-trip across clear, sun kissed turquoise blue waters of the Indian Ocean.
Consider the Accommodations
It's important to look at the villas and rooms available when you're deciding on which Coco Palm Maldives hotel you should stay in. Both facilities are conveniently near the airport, which makes the choice between these two Coco Palm Maldives facilities a bit difficult. In a nutshell, both Coco Palm Maldives Hotels provide their guests three to four villa designs to choose from.
Guests who come to the Coco Palm Maldives in Dhuni Kohlu can opt to stay in their beach villas, deluxe villas, lagoon villas, and sunset lagoon villas. As a rule, the bigger, more private villas in the Coco Palm Maldives hotel in Dhuni Kohli are a bit pricier than the rest. In this case, the Sunset Lagoon Villas top the list with its designer furnishings and private terrace. Guests who choose to stay in this villa type will also be pampered by personal butlers and in-house spa treatments.
Those who choose to stay in the Coco Palm Maldives in Bodu Hithi can choose among the Island Villas, the Water Villas, and the Escape Water Villas. The Escape Water Villas are the equivalent of the Sunset Lagoon Villas in the other Coco Palm Maldives facility. It also has a private terrace, spacious indoor living quarters, and a large private pool.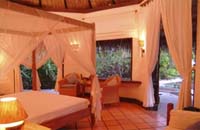 Wining, Dining and other activities in Coco Palm Maldives
Guests of both Coco Palm Maldives Hotels can only expect the best of cuisines from the islands. Maldives' close location to both spices and the sea make it a haven for seafood lovers who are looking for a gastronomic treat.
The hotels also provide instructors and facilities for those who wish to take part in water sports. This includes scuba diving, snorkelling, water skiing, and sailing. Both hotels also have facilities for volleyball and other beach sports.